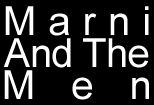 Here are a few of Marni And The Men's songs.
For the most part they are demo versions, but it gives
you an idea of what the band sounds like.
You can find a link to the lyrics to these songs
here.
Click on the links below to listen.

Widows users: right click to download.
Mac users: "option" click to download.
All songs and lyrics by Marni Bacharier ©

email the band at: marni@tutton.org